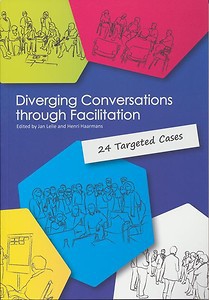 In the first half year of 2014 I worked on assignment in Libya for an European organization. Its request was to help a Non-Governmental Organization (NGO), specialized in dealing with gender-based violence, in the capital Tripoli with its organization and team development. "You helped us looking at ourselves with new perspectives", said one of the social workers.
I was invited to write an article about one of my Best Practices of Facilitation in Libya. It is published in the book Diverging Conversations through Facilitation, under the title Dealing with Tensions in Libya.
You can read the full article, by clicking on the cover page on the right.
The book Diverging Conversations through Facilitation is a compendium of experiences by organizations which have successfully used group facilitation to reach their goals. It gives those who are new to facilitation insight to what it means: the book provides a rich diversity of case studies for how a facilitator contributes to change and improvements. For those acquainted with facilitation, you may find new approaches here to enrich your current activities.