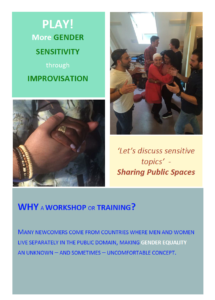 Many newcomers descend from countries where men and women live separately in the public domain, making gender equality an unknown and – sometimes – uncomfortable concept. With the playfulness and light-heartedness of Improvisation theatre, sensitive and essential topics can be discussed around themes as honor and shame, power and love, and individual as well as collective responsibility.
Goal
Facilitate connection between natives and newcomers on topics that really matter.
Applications?
An additional, playful and fun integration training – Getting to know each other for newcomers and host neighbourhoods and other host communities – Powerful tool for dialogue between volunteers, professionals and newcomers.
Target group
Groups consisting of newcomers and natives (volunteers as well as professionals) – Educational institutions, municipalities, refugee organizations, social work and similar organizations that are looking for innovative and powerful additions to the regular integration programs.
Training results
An open and positive mindset – A constructive attitude – Better and stronger individual connections with others caused be an appreciation and less non-judgment – Insights in civil rights and duties in public and private life – Improved multicultural awareness of host culture and culture of home countries – More insight in the value of gender equality creates room for understanding and connection – More insights in individual assumptions and expectations regarding social roles/gender.
Methodology
Participatory methods and work forms – Interactive techniques – Special attention to the established PLAY! methodology – Concrete action plans to ensure consolidation of new learnings – In collaboration with consultants from various cultural backgrounds: "Together we're richer and stronger".
Languages
The workshop is preferably offered in one shared, common language.
Information and Booking
This workshop can be tailor-made to a full-day or a half-day workshop. More information via info@nicolien.com or info@hetgrotemiddenoostenplatform.nl.
Please find further details in the flyer (PDF, click on picture).