How can you and your community foster a safe and inclusive environment for refugees? This question has become challenging for many cities and communities in Europe. In this workshop, we will discuss and develop protective mechanisms as well as means for effective implementation. The workshop is based on a participatory approach and is offered in several languages.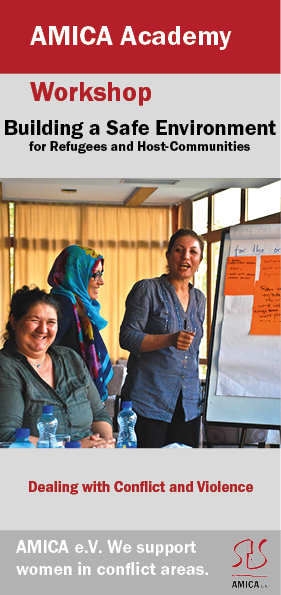 Target Group
Asylum centers, municipalities and other receiving communities. The workshop adresses all key stakeholders involved from asylum seekers and refugees, professionals in the fields of (mental) health care and public service, to management of asylum centers and receiving communities.
Methodology
We use participatory methods and interactive techniques to include all key stakeholders. This approach establishes common ground, guarantees local ownership, encourages the assumption of shared responsibility, reinforces social cohesion and fosters dialogue. A practical and bottom-up process will equip your community with tools for implementing change.
Languages
The workshop is offered in German, English or Arabic. For other languages, translators are required (not included in price). We are happy to provide multilingual information material.
Information and booking
You can book full-day or a half-day workshop. More information via info@nicolien.com or academy@amica-ev.org. More information in German on Amica's website.
Please find further details in the flyer (PDF, click on picture).