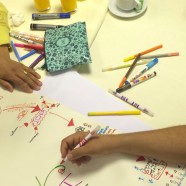 Co-creating the future? Are you in need of effective and productive methods to facilitate change in your organisations or team? Do you prefer methods that are participative and energizing? That's my cup of tea.
The main focus of my work is to help organisations and teams in their processes of change and development, and enable them to set goals for the future. I work with interactive and creative work methods, based on the Meta praxis of McWhinney and Appreciative Inquiry.

I enjoy this work because facilitation of processes of change has proven to be effective and productive. Above all, they are incredibly energizing for the participants.