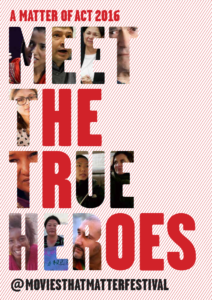 Saudi Arabia is the most gender-segregated nation in the world. Although changes are happening, they go hand in hand with setbacks. The documentary Saudi Arabia: A Wind of Change? gives the country's girl power a surprising voice. For example that of Ensaf Haidar, wife-turned-activist of imprisoned Saudi blogger Raif Badawi. 'Evaluating the country's developments is the task of governments and journalists.'
Movies that Matter, 2016
She may be one of the world's best-known spouses as 'the wife of the Saudi blogger'.
Ensaf Haidar's husband Raif Badawi was arrested in 2012 on charges of 'insulting Islam through electronic channels'. In 2014, then 30-year-old Badawi was sentenced to ten years in prison, one thousand lashes and a fine. His flogging, to be carried out over twenty weeks, is currently postponed due to his poor health. Ensaf Haidar and their three children now reside in Canada, where they have been granted political asylum.
Endless waiting
In the documentary Saudi Arabia: A Wind of Change? Haidar is one of the female voices speaking out. She describes her personal situation as 'endless waiting'. I tell her that I respect her strong personality. 'The situation in my country taught me to be strong. I learned this from Raif.' She doesn't miss Saudi Arabia. 'I want to live in a country that accepts me as a human being, and respects my rights. Canada feels like my home country.'
Play and fool around
'We miss Raif,' says Haidar. 'Him not being with his family is the most painful.' When Haidar speaks personally about her husband, she speaks in the plural. In Saudi culture, one always views the family and community as a collective. Her children are in their formative stage and need a father's guidance, she says. 'My kids want to do anything a child wants to do with their father: play, fool around, talk. Our house misses him.'
Anxious of change
Haidar describes her husband's psychological situation as 'very, very, very bad'. She talks less often and briefer to her husband now. With the new prison regime things get arduous. Haidar: 'Previously Raif could talk about his conditions in prison and the lack of expression. The fact that he doesn't speak about this is a sign that "his file is closed".' Haidar expects a new phase in the sentence of her husband soon, yet she is anxious of the change and its consequences.
Giggles
Saudi Arabian politics guarantee to make juicy headlines in the West. Women are prohibited from driving cars and female adult citizens need a male guardian for many legal matters. Although Saudi Arabia has achieved major advances over the past four decades in women's education, only one quarter of the female labour force is employed. By the end of 2015, women were given the right to vote in municipal elections, yet two months later the government ordered that men and women remain separate in local council meetings.
Obstacles for female citizens
As Raif Badawi tries to change his country from within, the documentary Saudi Arabia: A Wind of Change? shows how many women – and men – manage to move within the existing limitations and bring changes step by step. The documentary highlights the obstacles for female citizens in daily life and gives inspiring examples of girl power circumventing difficulties.
Hilarious scenes underline the absurdity of the country's gender apartheid. A Saudi female TV talk show host, whose programme is recorded in the United Arab Emirates, uncontrollably giggles on air when a conservative cleric argues that women should not be driving, because when they get a flat tyre, they risk rape by soldiers who step in to help.
Calculating response
When I ask Haidar's opinion about developments in Saudi Arabia, she is extremely careful at first. 'I believe that anybody has the right to express themselves, but they have to respect certain boundaries. I hope someday there will be human freedoms.' Her calculating response seems to be motivated by fear of how her answers can affect her husband's situation. Then she says she doesn't want to change anything in the country, she just wants the release of her spouse.
Legal minor
Four years ago, Haidar left Saudi Arabia. She doesn't feel in the position to evaluate the country's developments since then. 'I get my information from the Internet, I am not in touch with Saudi women. People inside are better capable to judge the changes. Don't focus on driving cars, focus on women's rights. The international community and journalists are the ones that should evaluate developments.'
Inside the conservative kingdom the general belief is that men have to protect the honour of women. A woman is seductive by nature, it is said, therefore a society needs gender apartheid to avoid men getting tempted. Haidar stresses that a woman lives her whole life in the shadow of her male guardian.
Men's world
'A woman should have the same rights as a man. Saudi Arabia is a patriarchal society, a men's world. In my days there were no women's rights in Saudi Arabia. I needed to ask my husband's permission for anything. Whether a woman is 50 of 80, she is qaasir, a legal minor. Can you imagine a situation when a husband dies, and a Saudi mother becomes a legal minor to her eldest son of 12?'
A short silence, the spouse that holds a degree in Islamic teachings reconsiders her words. 'I don't want to say the wrong things, I don't really want to talk about this. I want to emphasize that it is not the law, but traditional habits that dominate the law. In any religion, it is cultural traditions colliding. Morality is the most important factor.'
Haidar expresses a thousand thanks to the international community, organizations and individuals for their continuous pressure for the release of her husband. 'Countries should do their utmost to defend not just the rights of Raif, but anybody's rights. Every person has the right to speak out in a peaceful, civilized way. I have hope. Without hope, I cannot live.'
She says I am welcome to call again if I have further questions. Best not to call on Saturday mornings, though: 'Then I take driving lessons.''Congratulations!' I respond, and we both burst into laughter.
Biography Ensaf Haidar
(Jazan, 1975)
Ensaf Haidar and Raif Badawi married in 2002, against the will of Haidar's parents. They have two daughters and a son. In 2006, Badawi created the blog 'Free Saudi Liberals'. He was arrested in 2012 for insulting Islam and was charged with apostasy. After receiving death threats, Haidar fled the country. She and her children were granted political asylum in Canada. Haidar is partly responsible for the great wave of international solidarity for her husband's cause.